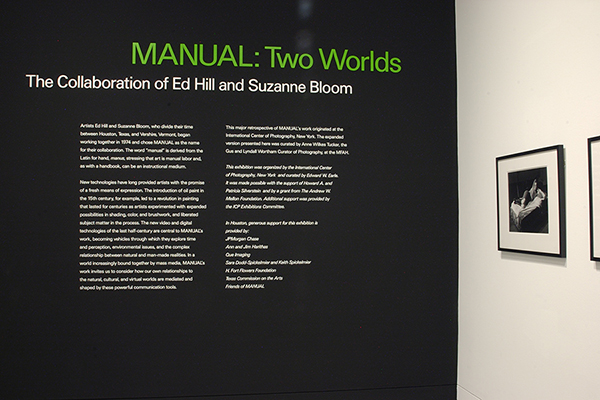 above: title wall, retrospective exhibition, Museum of Fine Arts Houston, 2004
MANUAL: Two Worlds (The Collaboration of Ed Hill and Suzanne Bloom)
Museum of Fine Arts, February 29 — May 23, 2004
This major retrospective of MANUALs work originated at the International Center of Photography, New York. The expanded version presented here was curated by Anne Wilkes Tucker, the Gus and Lyndall Wortham Curator of Photography, at the MFAH.
Artists Ed Hill and Suzanne Bloom, who divide their time between Houston, Texas, and Vershire, Vermont, began working together in 1974 and chose MANUAL as the name for their collaboration. The word "manual" is derived from the Latin for hand, manus stressing that art is a manual labor and, as with a handbook, can be an instructional medium.
New technologies have long provided artists with the promise of a fresh means of expression. The introduction of oil paint in the 15th century, for example, led to a revolution in painting that lasted for centuries as artists experimented with expanded possibilities in shading, color, and brushwork, and liberated subject matter in the process. The new video and digital technologies of the last half-century are central to MANUAL's work, becoming vehicles through which they explore time and perception, environmental issues, and the complex relationship between natural and man-made realities. In a world increasingly bound together by mass media, MANUAL's work invites us to consider how our own relationships to the natural, cultural, and virtual worlds are mediated and shaped by these powerful communication tools.
Click image below to link to 41 installation shots from Two Worlds (The Collaboration of Ed Hill and Suzanne Bloom) arranged in gallery groups of one to four images each.

installation shots